Community Volunteers
The Office of International Education has the invaluable assistance of Community Volunteers, who help visiting international scholars with cultural transition to the University and the Richmond area. These fun and caring individuals help visiting international scholars with cultural and practical matters in exchange for the opportunity to interact with some of the most outstanding professors, artists, and researchers in the international field.
Betty Ann Dillon, W'48 and G'49
Betty Ann Dillon is actively involved in her alma mater. She has served on the Board of Trustees (1978-82) and the Board of Associates. She has been a leader in the Westhampton College Alumni Association, Women's Resource Center, Lake Society, Chapel Guild, and Friends of Boatwright Library. She is currently a member of the Richmond Council and the University of Richmond Alumni Association. Ms. Dillon has received distinguished alumna awards from the University and Westhampton College, and in 1983 she won the Trustees Distinguished Service Award.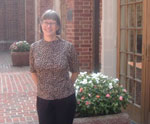 Charley King
Charley King is the Student Accounts Manager in the Controller's Office at the University of Richmond. She loves animals, gardening, traveling, cooking, eating good food, architecture (especially old buildings and mid-century modern), politics, antiques, and lots of other things. She is currently a host family to Bulgarian and Chinese international students.



Anca Lipan
Originally from Romania, Anca is an architect who, besides contemporary architecture and her work in educational architecture, is interested in art and cultural studies. Among her favorite movements are Art Nouveau, Vienna Secession and Surrealism. Anca enjoys spending time with family and friends, baking, foreign movies, and visiting art museums and historic houses.


Terry Robinson-Kochi
Terry is the Administrative Coordinator for Law Development and Alumni Programs at the University of Richmond School of Law. Terry lived overseas as an EFL teacher and accompanying spouse for more than 20 years in Japan, Afghanistan, Burma, France, and Switzerland. She likes outdoor recreation, including hiking, skiing, and kayaking. She loves taking advantage of all the cultural and intellectual opportunities on campus, including concerts, lectures, theatre, gallery talks, book discussions, etc. She has two adult children and one high school senior.