Vietnam and Thailand - 2002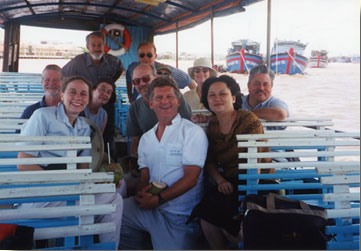 Dr. Uliana Gabara led a group of nine faculty members on a three-week seminar to Vietnam and Thailand. The seminar was preceded by several weeks of personal research and on-campus presentations, including a lecture by historian Dr. George C. Herring, Alumni Professor of History at the University of Kentucky.

One of the highlights for participants was joining Lady Praneet Vacaharaphol at a dinner in their honor in Thailand. Lady Praneet is executive director of Thai Rath, a newspaper with a circulation of over one million. She also directs a charitable foundation that has built over 100 schools for needy school children.
Program Participants
| | |
| --- | --- |
| Ernest Bolt, Jr. | Department of History |
| Tom Cosse | Robins School of Business |
| Laura Elizabeth Crawford | Department of Psychology |
| Uliana Gabara | Office of International Education |
| Abner Linwood Holton, III | Department of History |
| Robert Schmidt | Department of Economics |
| Gary Shapiro | Department of Philsophy |
| Michael Spear | Department of Journalism |
| Sydney Watts | Department of History |
| Richard Wright | Robins School of Business |