China, Tibet, and Taiwan - 2007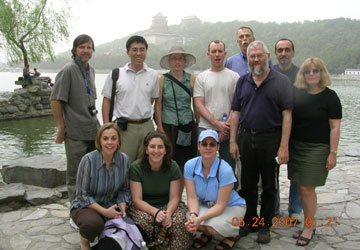 Dr. Vincent Wang, political science professor and director of international studies, led a group of ten faculty members on a three-week in-country seminar to China, Tibet, and Taiwan. The seminar was preceded by several weeks of personal research and on-campus presentations.

While in China, Tibet, and Taiwan seminar participants met with counterparts at current and potential Richmond exchange universities, as well as experts on the region's culture, politics, economics, and educational system. They also visited some of the region's most important cultural and political sites.
Program Participants
| | |
| --- | --- |
| Nezih Altay | Department of Management |
| Melissa Labonte | Department of Political Science |
| Dana Lascu | Department of Marketing |
| Miriam McCormick | Department of Philosophy |
| Andy McGraw | Department of Music |
| Steve Nash | Department of Journalism |
| Patricia Stohr-Hunt | Department of Education |
| Carol Summers | Department of History |
| Richard Waller | University Museums |
| Vincent Wang | Department of Political Science |
| Jonathan Wight | Department of Economics |