International Student Advisory Board
The International Student Advisory Board (ISAB) is a bridge from the international student community to the Office of International Education and University departments by offering ideas for new programs and services and suggestions for current programs and services.
ISAB Goals
The ISAB's goals are to:
serve as a forum for international student feedback on their study abroad experience at Richmond.
increase international student visibility and collaboration with campus offices through outreach and education about international student needs.
provide leadership training through meetings, presentations, and other interactions with the UR community.
Apply to be an ISAB member for 2019-20!
Applications are currently being accepted.
ISAB Mission Statement & Guidelines
Your Ideas
If you have ideas or suggestions for new outreach activities or ways to improve the current Richmond experience for international students, let ISAB know by completing this form or email the ISAB.
Meet the Board
Pebbles Daez, Philippines, WC '19, ANTH/HCS
Mabuhay! My name is Pebbles, and I am a senior from Muntinlupa City, the Philippines. I've lived in the US for the past five years after moving to Wisconsin when I was still in high school, and I love spending time exploring all that RVA has to offer! I studied abroad at Uppsala University in Sweden last spring 2018, and now I'm looking forward to celebrating my last year as a student at UR. On campus, I work as a writing consultant and as a student assistant in the Office of the President. I'm also involved with Camp Kesem, student government, and the women's ultimate frisbee club team (#OurTeamIsRedHot). I'm so excited to be working with the ISAB this year, and my ears are always open to any comments, suggestions, or concerns you may have. You can find me hanging out at Passport Cafe, eating ice cream in d-hall, or throwing frisbees on the pfoots (or just send me a message on Facebook)!
Thao Do, Vietnam, WC '21, Undeclared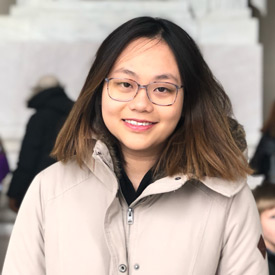 My name is Thao Do, and I am from Hanoi, Vietnam. I am a B-school student with a potential major in Accounting and a concentration in Finance. I love reading, cooking, traveling, playing guitar/ ukulele and doing puzzles. My dream is to be able to graduate with enough sleep and to own at least one thousand books. My first year at UR has been spectacular as I have met so many great friends and been exposed to different cultures. Serving as an ISAB member next year, I aspire to get more active in the international students community and support its work as much as possible.
Turki Alshammari, Saudi Arabia, LLM ¿19
My name is Turki Alshammari, a Muslim from Saudi Arabia. I'm a law school student (LLM) and part of the Muslim Students Association (MSA). This fall was my first semester at UR. I've met so many nice people in this beautiful campus. I enjoy writing, reading and playing video games. During my English study in Oregon state, the international community has inspired me to be active, amicable and sociable. It has been a pleasant experience to get to know various cultures and learn from them. As a member of The International Student Advisory Board (ISAB), I'm willing to help the international students as a group and individually. I'm not saying that I have a superpower to solve any problem. However, I can genuinely listen and understand you, which is a powerful way to ease the stress. I'm looking forward to make our experience in this campus a better one and to have a great time through this process.
Yu Kataoka, Japan, 2018-19 exchange student from Waseda University
Hi! My name is Yu Kataoka, and I am an exchange student from Tokyo, Japan. Currently, I'm studying economics, marketing, and political science. I love fishing, playing/watching sports, and traveling. The first month I spent in UR has been so exciting because everything was new for me. I feel strongly that experiencing cultural differences is fun and interesting, so I would like to share this with more students through working with ISAB. I'm looking forward to organizing events which every UR student can enjoy and let international students feel at home.
Please feel free to contact us and request what kind of activities you want to join. Let's make your plan come true!
Siwanta Thapa, Nepal, RC '21, Undeclared
My name is Siwanta and I am a sophomore from a beautiful country in Asia called Nepal. My experiences at UR have shaped me into a much better person than I was before I came in here. Other than ISAB, I am involved in clubs and organization such as the I-club, International Orientation, and Peer Advisors and Mentees Program. I love to meet new people and make new friends. You can either catch me in the library or hear my laugh echo in dhall (Heilman Dining Center). I am really excited to be working with ISAB and my door is always open if you guys ever need help with anything.
Yuhe Zhu, China, WC '20, CMSC/MATH
Hello! My name is Yuhe Zhu, and I am from China. You can also call me Sherry. I am a junior, double majoring in Computer Science and Math with a minor in Business Administrations. I love watching movies, reading books and sleeping. I have watched 400 movies from 2015 to today and my goal is to watch 100 movies per year in college. I started to live off campus since my sophomore year, and I learned that there are so many problems you have to solve if you live by yourself, especially if you have not lived in the US before. As a ISAB member, I am looking forward to sharing all my experience with you all. I hope I can do my best to support the international student community!