International Student Advisory Board
The International Student Advisory Board (ISAB) is a bridge from the international student community to the Office of International Education and University departments by offering ideas for new programs and services and suggestions for current programs and services.
ISAB Goals
The ISAB's goals are to:
serve as a forum for international student feedback on their study abroad experience at Richmond.
increase international student visibility and collaboration with campus offices through outreach and education about international student needs.
provide leadership training through meetings, presentations, and other interactions with the UR community.
ISAB Mission Statement & Guidelines
Your Ideas
If you have ideas or suggestions for new outreach activities or ways to improve the current Richmond experience for international students, let ISAB know by completing this form or email the ISAB.
Meet the Board
Than Thar Aye, Myanmar, WC '22, Biochemistry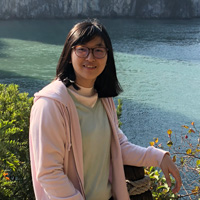 My name is Than Thar Aye, and I am from Myanmar (Burma). I am currently a sophomore, and I am planning to major in Biochemistry and minor in Business Administration. I love swimming, cooking, watching variety shows and traveling. Recently, I also discovered my new interest in playing archery during my first semester at the university, so if anyone would like to give it a shot just let me know. My first year here at the University of Richmond has been a great experience getting to know a lot of people from diverse backgrounds. Like any other international student coming from another side of the globe, I honestly found it difficult to adapt to this unique culture and the peculiar weather of Richmond at first but believe me you are not alone. If you ever want to open up to someone about anything or just hang out, always feel free to reach out to me anytime because I would love to make you feel at home.
Lola Berna, Spain, Fall 2019 exchange student from Universitat Pompeu Fabra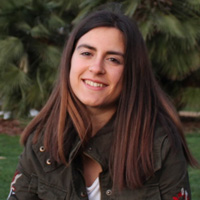 ¡Hola! My name is Lola Berna. I come from the countryside of Spain but moved to the cosmopolitan city of Barcelona to study Global Studies. International relations and the environment are my main interests. I travel, go out for dinner and enjoy nature whenever I can, and I am very keen on keeping a healthy lifestyle. I really love people in all their diverse ways, meeting and learning from them, and think ISAB would be a perfect opportunity to do so! I am sure that we all, the international student community, can make a lot of great things happen together and I am so proud to be able to take part in it!
Xiaodi Hu, China, WC '21, Physics and Psychology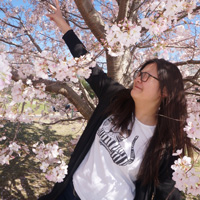 Hi! My name is Xiaodi Hu and I go by Sara. I come from Wuxi, Jiangsu, China. Singing and journaling are my biggest hobbies, and free-writing is my favourite activity in my free time. UR has been serving as a platform for me to try many different possibilities for my future. At UR, I found my passion for science and research, and I am majoring in Physics and Psychology. I started research in my freshmen year, and I can talk non-stop about my wonderful research experience at UR. I also participate in several student organizations to try different things and positions. Besides, I had several on-campus jobs to gain working experience. If you have any questions about anything, feel free to reach out to me!
Tipwadee Kitirak, Thailand, Fall 2019 exchange student from Thammasat University
Hello! My name is Tipwadee Kitirak, you can also call me Benz. I am an exchange student from Bangkok, Thailand. I am a junior, double majoring in Accounting and Finance. I like listening to music and exercising. Moreover, I like to meet new people and make new friends. I am looking forward to being working with ISAB this semester. So, if you have any questions and concerns or need any help from me, please do not hesitate to contact me. If you have not lived in the US before, do not worry! I had my exchange when I was in high school before. So hopefully, I can share my experiences with you. I cannot wait to meet you and make our experience at the University of Richmond the best!
Linh Nguyen, Vietnam, WC '22, Mathematical Economics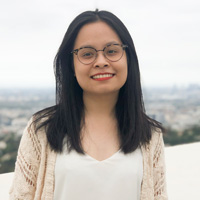 My name is Linh Nguyen. I am a sophomore from Hanoi, Vietnam. I am undeclared with an intended major in Mathematical Economics and minor in Arts. I love reading, baking, watching movies and especially photography. You can sometimes catch me around campus or downtown with my camera. My first year at UR has been wonderful and changed me a lot as a person. I am very excited to serve as an ISAB member next year, and I am open to any comments or suggestions from you to improve the international student community.
Linh Pham, Vietnam, WC '22, Business Administration
Hi! My name is Mai Linh Pham (preferred name Linh Pham) from Hanoi, Vietnam. I am a rising sophomore with an intended major is Business Administration, triple concentration in Accounting, Finance, Management Consulting, and minor in Psychology. I love to socialize with people and get engaged with multicultural programs, so I would be more than happy to serve as an ISAB Board Member and support our diverse international student community here. Apart from ISAB, I currently take part in a variety of programs or organizations on campus, such as SSIR Living Learning Community, Spider Board, American Marketing Association, Peer Advisors and Mentees Program, etc. You can not only find me "getting stressed out" at the B-School but also come across me working at the CSI Front Desk in THC, but definitely stop by and catch up. One year studying in Richmond has allowed me to develop myself a lot in different aspects, so I am always here to help!
Siwanta Thapa, Nepal, RC '21, Physics
My name is Siwanta and I am a junior from a beautiful country in Asia called Nepal. My experiences at UR have shaped me into a much better person than I was before I came in here. Other than ISAB, I am involved in clubs and organization such as the I-club, New Spiders Orientation, and Peer Advisors and Mentees Program. I love to meet new people and make new friends. You can either catch me in the library or hear my laugh echo in dhall (Heilman Dining Center). I am really excited to be working with ISAB and my door is always open if you guys ever need help with anything.