2023-24: Three experiential local-global opportunities - fully funded!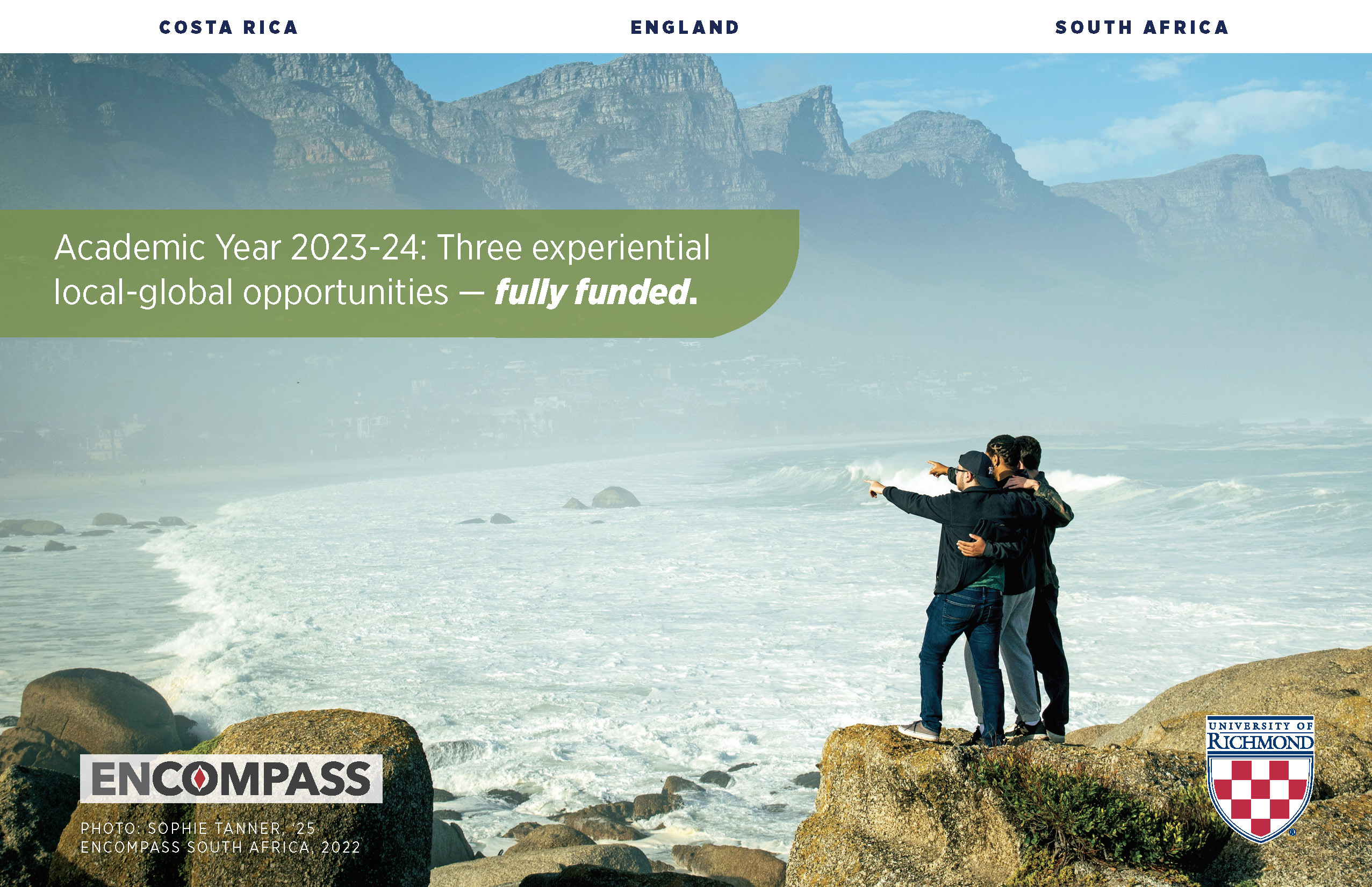 EnCompass is for students who are less likely to study abroad!
EnCompass students are usually within their first two years of study and represent one or more of the following categories: first generation, African-American, Latinx, student-athlete, STEM major, male students. Additionally, we send an experienced student traveler with each group. All University of Richmond students are eligible to apply.
The 2023-24 EnCompass offerings include:
Fall Break - Student Athletes
This program is only open to student athletes approved by Courtney Hughes and does not include an associated course. Students will meet several times through the Fall 2024 semester both before and after international travel during fall break.
Maymester Programs
Submit just one application for the 2024 May programs, which include a 0.5 unit course during the Spring semester 2024 and then 1-3 weeks of international travel in May. Rank the programs according to your preference.
Costa Rica: Sustainability, Social Justice &...

This immersive experience will provide student-athletes with a greater understanding of the intersections between sport, sustainability, and social justice. Sport has the capacity to be a change agent, both locally and globally, with this program serving as an opportunity for student-athlete leaders to further explore how sport can be an advocacy tool for sustainable development and social justice. Students will explore initiatives aimed at reducing the environmental impact of sporting events, while discovering how sports can serve as a powerful platform for raising awareness about issues surrounding sustainability. While immersing themselves into the complexities revolving around the Afro-Costa Rican community, students will connect with the local indigenous population to gain a greater understanding of the social, economic, and political factors that contribute to inequality and marginalization. Students will also gain valuable insight into traditional methods of sustainable living that have sustained local cultures for generations. By exploring these practices, students will intrinsically develop a deeper understanding of the symbiotic relationship between the environment and the community as well as the importance of preserving cultural heritage in the pursuit of sustainability. 

Program Leaders: Courtney Hughes and Ellen Sayles

Travel Dates: October 13 – October 17, 2023

Richmond, UK: Richmond to Richmond – The...

Conserving our Natural Resources - From Richmond, England on the river Thames to its namesake, Richmond, Virginia on the James River, how do people come together to protect their natural heritage? In this course we examine how the conservation community raises awareness and the needed financial resources from the perspective of two different countries and cultures.

Faculty: Joyce van der Laan Smith

Travel Dates: May 19 – May 26, 2024* tentative – subject to change

South Africa: Environmental Racism

Explore the parallels between pollution and EJ challenges in post-Apartheid South Africa and the EJ issues faced by formerly redlined cities in the US, including Richmond, VA.

Faculty: Shannon Jones and Kay MacDonald

Travel Dates

: May 13 – May 24, 2024* tentative – subject to change