Peer Advisor
The Peer Advisor is a University of Richmond student who has been trained to assist you in exploring your options for studying abroad and can speak to you in a peer-to-peer environment. This advisor can help you with questions such as:
How do I choose a program?
What kinds of things should I consider as I prepare to study abroad?
How will my credit transfer?
How much will it cost?
How do I apply?
What is it really like to spend a semester or year abroad?
How can I talk to other students who have studied abroad?
Meet Esther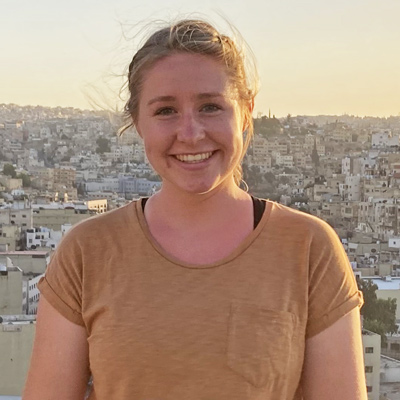 The 2022-23 Peer Advisor is Esther Helm, a senior from Winston Salem, North Carolina, who has studied abroad two semesters. In Fall 2022, Esther studied in Amman, Jordan, with the SIT program, where she lived with a host family and further explored her two majors, Global Studies and Arabic Studies. In the spring of last year, she studied at the Université de Lausanne in Switzerland as an exchange student, focusing on French and linguistics. As the Study Abroad Peer Advisor, she is excited to help students find programs that will allow them to meet their academic, personal, and professional goals.
Spring 2023 Advising Hours
Monday
1:45 – 4:15 p.m.
Tuesday
9:00 – 10:00 a.m.
4:00 – 6:00 p.m.
Wednesday
1:45 - 4:15 p.m.
Thursday
8:30 – 10:00 a.m.
Friday
2:00 – 4:00 p.m.